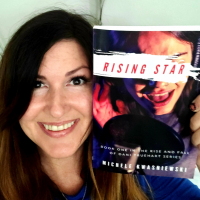 Michele Kwasniewski
Teen & Young Adult
Michele Kwasniewski, is an entertainment industry insider who has seen what the Hollywood machine can do to people – having worked for many years in film and television production on such films and TV shows as Primal Fear, Independence Day, Evita, Face/Off, Big Brother, and many TCL, HGTV, and Discovery series including: Meet the Pandas, Adoption Story, Wedding Story, and Extra Yardage.
With her book, she shares the glamour and excitement of fame as well as the hard work it takes to achieve success and the price of living life in the public eye. Everyone wants to be famous, but most people have no idea what that really means. Michele has seen it firsthand. She is an active member of the Producers Guild of America.
Michele Kwasniewski Books
The trust of the innocent is the liar's most useful tool.
Stephen King